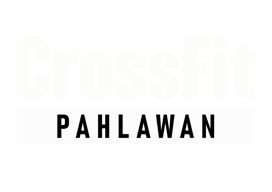 SPECIALTY CLINIC : THE SNATCH
Elevate Your Olympic Weightlifting Skills with Our Exclusive Specialty Clinic!
Are you ready to take your Olympic weightlifting game to the next level? Look no further! We are thrilled to introduce our second Specialty Clinic, where we will dive deep into the art of Olympic weightlifting, focusing specifically on The Snatch.
What to Expect:
Join us for a transformative 2-hour course that will empower you with a profound understanding of the Snatch - from the initial setup to the flawless execution and the exhilarating completion of the full movement. This isn't your average training session; it's an immersive learning experience that will leave you with a comprehensive grasp of this challenging lift.
Why This Clinic Is a Game-Changer:
You won't be lost in a sea of participants; our intimate group setting ensures personalized attention with a maximum of just 10 participants. This means you'll have the opportunity to receive direct feedback and guidance from our expert coach, Dann.
The Coach Dann Difference:
Coach Dann understands that true mastery of the Snatch isn't just about lifting heavy weights; it's about having a profound understanding of the intricate movements. He firmly believes that knowledge is the key to unlocking your full potential. By delving into the intricacies, you'll gain clarity on your strengths and weaknesses, enabling you to pinpoint errors and pave the way for long-term success in the Snatch.
Don't miss out on this extraordinary opportunity to elevate your Olympic weightlifting skills. Whether you're a seasoned athlete or just starting your fitness journey, our Specialty Clinic promises to be a game-changer. Secure your spot today and embark on a journey to snatch success like never before! 💪
📅 Date: 18th Nov 2023
🕒 Time: 11.15 am - 1.15 pm
💲 Investment: RM 88 (Pahlawan members), RM 188 (Non-members)
*Non-members will need to top up the remaining payment on the day of the event
Spaces are limited, and they're filling up fast! Reserve your spot now by clicking the link below. We can't wait to see you there! 💥

COACH DANN & WEIGHTLIFTING
Weightlifting isn't just a sport for Coach Dann; it's a lifelong passion that has burned within him since his introduction to CrossFit in 2011. His dedication to mastering the art of weightlifting led him to seize a unique opportunity in 2014 when he embarked on a journey with a group of Strength and Conditioning Specialists from the Hong Kong Sports Institute. Without a moment's hesitation, he enrolled in a course offered by USA Weightlifting and hopped on a plane to Hong Kong.
Coach Dann's commitment to excellence is a hallmark of his character, a trait that he demonstrated even during his university days. Notably, he achieved a remarkable feat by scoring a perfect 100% on his exam, earning him the esteemed title of USAW L1 SP Coach, or simply, USA Weightlifting Level 1 Sports Performance Coach.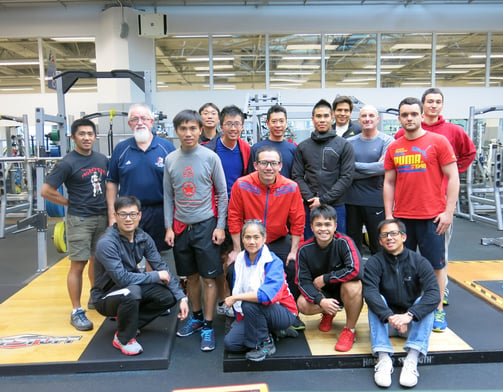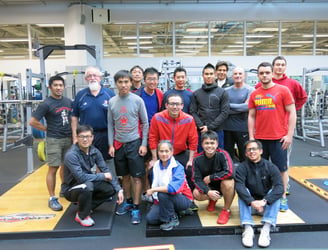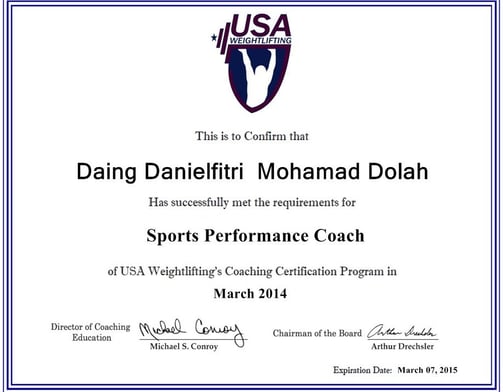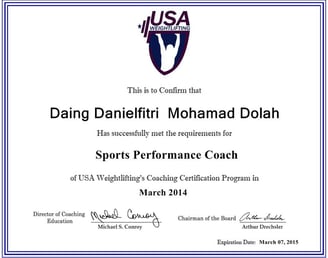 Unquenchable Thirst for Knowledge and Experience
Coach Dann's passion for weightlifting knows no bounds. It's not just about the sport; it's about constant growth and learning. In 2015, he took his quest for knowledge to new heights by embarking on a journey to Amsterdam to learn from the legendary Burgener family, specifically under the tutelage of Beau Burgener, the son of the renowned Coach Mike Burgener, a pivotal figure in CrossFit Weightlifting.
In the company of fellow European CrossFit Coaches, Coach Dann dedicated himself to a comprehensive two-day course at CrossFit Amsterdam. This experience was a pivotal moment in his journey, and from that point forward, he has been on an extraordinary trajectory.
Since then, Coach Dann has shared his wealth of knowledge with over 1500 members, spanning all skill levels. From newcomers who knew nothing about weightlifting to seasoned athletes competing at the novice level, Coach Dann has been their guiding light.
Now, this weekend, Coach Dann is extending an invitation to you. Don't miss this exceptional opportunity to tap into his vast reservoir of expertise. Sign up now and be a part of the legacy he's building in the world of weightlifting. Join us before this golden opportunity slips away!